The Honda Gold Wing® is designed to deliver to you the essential experience of touring. A name recognized by the riders across the globe for the genius in this machine, especially the ones who want to cover long distances, it has become a global touring icon. Over the years, it has evolved to become lighter, faster, more powerful and engaging. The first Gold Wing — The 1975 GL1000 was revolutionary and changing a bike as good and as refined isn't something you take lightly. The newest model in every aspect continues the ethos of Goldwing forward by ensuring exemplary specs : be it engineering, handling, technology, comfort or performance.
ENGINEERED TO THE CORE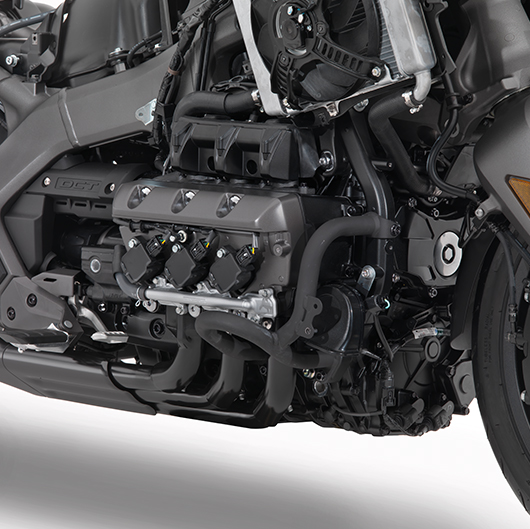 At the heart of every great motorcycle beats a great engine. While the long-distance champion features the Revered horizontally opposed six-cylinder engine, it features a new bore and stroke and a displacement punched out to 1833 cc. The engine uses 4 valves per cylinder - a design based on our high-performance Unicamu00ae head design. In addition to this, it is equipped with aluminum cylinder sleeves and a shorter, stiffer crank to enable more engaging, sporting performance that all motorcyclists live for.
7-SPEED AUTOMATIC DCT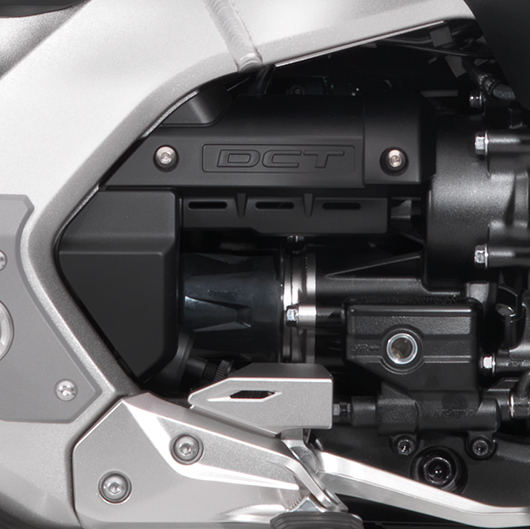 For the first time ever, the new Gold Wing is available with a brand new 7-Speed Automatic DCT. Thereu2019s no shift lever and no clutch lever. All your shifting is controlled by buttons on the handlebar. The twin clutch packs - one for odd gears and the other for the even ones, makes shifting quick and seamless. To add to that, the DCT model offers a special low-speed u201cwalkingu201d feature in addition to reverse that makes for an effortless maneuvering in parking spaces, especially with a pillion.
ANDROIDAUTOTM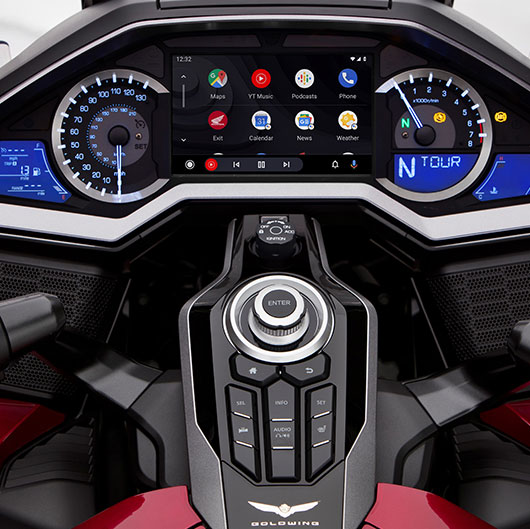 Now Android AutoTM is integrated with the current model Gold Wing. Customers with AndroidTM smartphones will be able to enjoy application services seamlessly such as music, phone calls and messaging.
INFORMATIVE METERS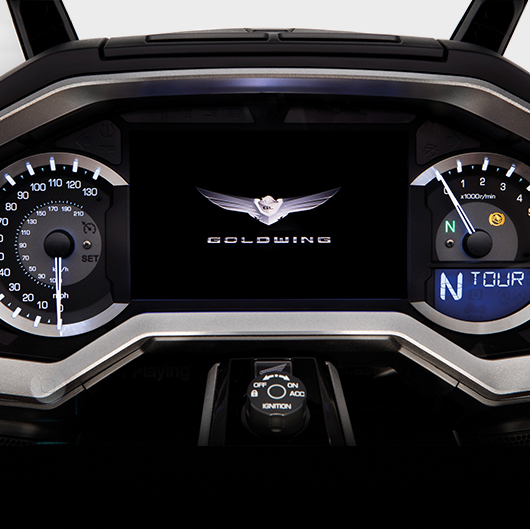 The new Gold Wing keeps you updated with an informative Meter in its cockpit. Itu2019s a dual-trip meter with all the basics a rider needs like - vehicle and engine speed, fuel-level, engine temperature and dual-trip meters, air-temperature, cruise-control speed, and more.
PREMIUM AUDIO SYSTEM
The premium Audio System of the new Gold Wing is an excellent example of state-of-the-art electronic technology. In addition to listening to music, you can also plug-in a USB flash drive with a dedicated port. Using the Bluetooth headset, you can dial or receive calls on your smartphone, without taking your helmet.
DOUBLE-WISHBONE FRONT SUSPENSION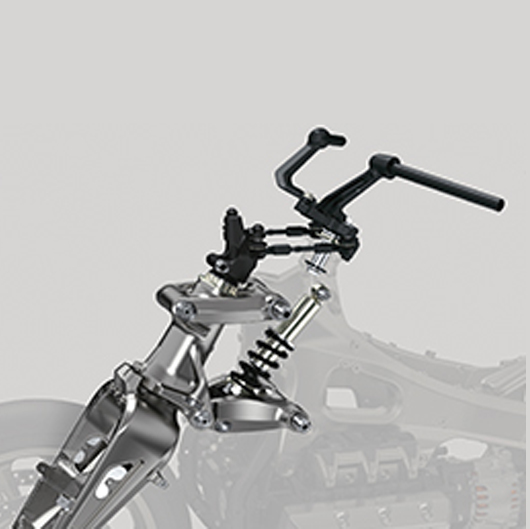 Powered by the innovative Honda-engineered design, the new Gold Wings have the radical new Double Wishbone Front Suspension with a strong, twin-leg structure, a pair of u201cAu201d arms and a single-shock and spring.
Engine
Type
Liquid-cooled 4-stroke 24 valve SOHC flat-6
Displacement
1,833cc
Max Power
93kW/5500rpm
Max Torque
170Nm/4500rpm
Transmission
7-speed forward and reverse DCT
Ignition
Integrated Starter Generator system
ELECTRICALS
Battery
12V/20AH
Headlamp
 
SUSPENSION
Front
Double Wishbone
Rear
Pro Link
CHASSIS
Frame
Aluminum die-cast, twin tube
Dimension
2,575 x 905 x 1430mm
Wheelbase
1695mm
Seat Height
745mm
Ground Clearance
130mm
TYRE TYPE
Front
 
Rear
 
TYRE SIZE
Front
130/70R 18M/C 63H
Rear
200/55R 16M/C 77H
BRAKES
Front
320mm x 4.5mm dual hydraulic disc with 6-piston calliper, floating rotors and sintered metal pads
Rear
316mm x 11mm ventilated disc with 3-piston calliper and sintered metal pads
AIR FILTER
Air Filter
*Prices are subject to change without prior notice.
VEHICLE
CC
AVERAGE as per SIAM
EX-SHOWROOM
PARKING TAX
INSURANCE 1 YEAR NORMAL + 5 YEAR TP
INSURANCE 1 YEAR ND + 5 YEAR TP
RTO
TCS
ON ROAD
ON ROAD WITH ND
ON ROAD WITH RSA AND EW
 
GOLD WING MT
1,833cc
-
37,54,595
1,500
72,695
97,912
533,975
37,546
4,400,311
4,426,528
4,434,946
-
-
GOLD WING DCT
1,833cc
-
39,53,414
1,500
75,537
102,127
556,553
39,534
4,627,538
4,654,128
4,662,992
-
-