Impeccable performance, unmatched style and an unforgettable legacy – all of it comes together with the magnificent CB 1000R. With a brilliant new Neo Sports Café design that harmoniously blends an exalted tradition and craftsmanship with ultra-modern power and styling, this Japan crafted warhorse from the Honda sporting stable creates a category of Sports Roadsters. For the riders who love to take their machines to their full potential, here's an iconic machine that delivers the ultimate joy of riding. After all, it's more than just a bike. It's pure emotion.
Engine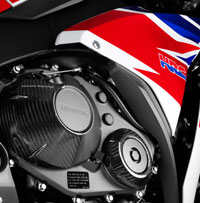 The engines peak power of 133kW u2013 up 2kW u2013 arrives at 12,250rpm; torque peaks with 114Nm delivered at 10,500rpm.rnrnBore and stroke is set at 76mm x 55.1mm with compression ratio of 12.3:1. A nickel-silicon carbide (Ni-SiC) surface treatment on the cylinder walls reduces friction and ensures reliability.rnrnAs ever, the all-round usability of such a potent engine u2013 especially throttle control at partial openings u2013 has been a principal factor for Hondau2019s engineers. Key is the Programmed Dual Sequential Fuel Injection system (PGM-DSFI).rnrnRemapped to match the revised cylinder head and uprated power and torque output, PGM-DSFI delivers precise fuelling and an accessible power delivery, especially at low speeds and low rpm, where response is particularly refined, predictable and progressive.rnrnAt throttle openings of up to 25% the PGM-DSFI delivers relatively fine and consistent changes in power and torque output u2013 perfect for extracting maximum drive at full lean. As throttle openings become larger, the changes in output are progressively greater and the overall result is an engine that responds with great accuracy to rider throttle input, giving superb feel from the rear tyre and highly usable, linear acceleration.rnrnThe MotoGP-derived slipper clutch ensures full power transmission together with ultra-smooth gear shifting and light feel at the lever. In the critical hard braking, back-shifting corner-entry phase it decreases the torque passed from engine to the rear wheel, reducing the chance of traction loss and increasing stability.
Chassis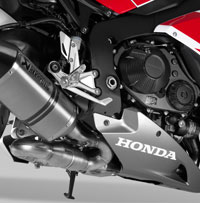 The CBR1000RRu2019s die-cast aluminium twin-spar frame balances the strength, rigidity and lightness required for Super Sport-specification handling and a favourable power-to-weight ratio. Tightly wrapped around the main components, it also contributes to mass centralisation, a guiding principle of Hondau2019s racing and road-going design philosophy. Rake is set at 23u00b0 30u2032 with trail of 96mm and wheelbase of 1,410mm. Kerb weight is 200kg with front/rear weight distribution of 52.6%/47.4%rnrnThe aluminium gull-wing swingarm is deliberately long. It operates through MotoGP-derived Unit Pro-Link rear suspension to deliver outstanding traction and rider feedback.rnrnIn 2014, in response to customer feedback, the riding position was made more aggressive. The footpegs were set 10mm further back, and the handlebars made wider, and brought 1u00b0 lower and 5u00b0 forward compared to the previous model.rnrnA Showa 43mm inverted telescopic fork employs Big Piston Front Fork (BPFF) technology. Their unique construction u2013 with larger damping volume u2013 effectively reduces hydraulic pressure generated under compression and extension.rnrnThis results in finer control during the initial stroke and smoother damping, maximising tyre contact with tarmac. Improved overall handling, excellent feel for front tyre traction and enhanced stability during hard braking follow. Spring preload and rebound and compression damping are fully adjustable.rnrnThe rear suspension features a fully adjustable Showa Balance Free Rear Cushion. Instead of a conventional single-tube layout, the system uses a double-tube design: the damper case and an internal cylinder. The damper piston has no valves u2013 instead the damping force is generated as displaced oil passes through a separate damping component.rnrnThis allows pressure changes within the shock to be controlled more smoothly than normal. And because there are no small amounts of oil being used at high pressures damping response and reaction are improved, and damping force can function smoothly during load input. Moreover, damping weight is generated consistently when switching from tension to compression due to even pressure changes.rnrnThe Showa Balance Free Rear Cushion delivers more consistent damping, plus improved shock absorption and greater traction as more consistent contact is maintained between rear tyre and tarmac. To allow easy and fast adjustment of compression and rebound damping the adjusters are placed on top of the shock body, offset to the left.rnrnFor well-balanced steering the second-generation Honda Electronic Steering Damper (HESD) monitors speed and tailors damping force accordingly. It enhances stability at high speed by minimising the effect of sudden steering angle changes, while also leaving the steering untouched u2013 and light u2013 at low speed.rnrnWorking hand in hand with the sophisticated Showa suspension, rigid 12-spoke cast aluminium wheels offer superb handling and rider feel; the front 17in x 3.50in wears a 120/70ZR17 tyre, the rear 17in x 6in a 190/50ZR17.rnrnMachined from a single piece of aluminium u2013 to save weight and optimise rigidity u2013 the four-piston front brake calipers are radially mounted and work 320mm floating discs. The rear single-piston caliper and 220mm disc add subtle levels of control.
Equipment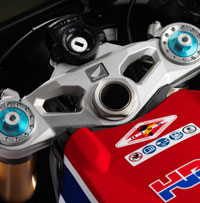 A compact car-style u2018waveu2019 design ignition key offers security and greatly reduces the chance of breakage.rnrnThe CBR1000RR uses multi-function LCD instrumentation with a cockpit display dominated by the digital bar-type linear tachometer that scrolls left to right as engine speed increases. Beneath this are the main numerical readouts: gear position, coolant temperature, speedometer, clock/lap time, trip/fuel efficiency/fuel consumption and odometer/numerical tachometer. At the bottom of the display are lights for headlight high beam, neutral and indicators.rnrnClear and easy to read in all light conditions, the tachometer has four display modes: conventional, which uses black LCD segments to show current rpm; reverse, which employs black LCD segments to show remaining rpm. Peak hold indicates rpm in the conventional way and also leaves a tell-tale segment showing the peak rpm achieved while single segment uses a single block to show current engine speed. In addition, the odometer may be switched to display engine rpm numerically.rnrnThe lap timer features four modes. The display can also show fuel consumption, average fuel efficiency, distance travelled and total elapsed time. To assist debriefing after a session, lap time recall mode shows the fastest lap time and the lap on which it was set.rnrnTo ensure gear shifting at the optimum engine rpm, the 5-level shift indicator display uses highly visible white LEDs, adjustable for brightness. They illuminate sequentially as engine rpm rises, finally blinking at a chosen pre-set rpm (default is 13,000rpm but this can be set between 4,000rpm and 13,000rpm). The interval between sequential illuminations can also be set at 0, 200 or 400rpm.
Electronic Combined ABS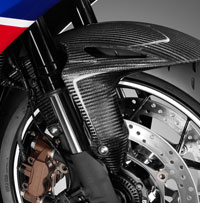 Hondau2019s high-performance electronically-controlled Combined Anti-lock Brake System (electronic Combined ABS) is an option on the CBR1000RR.rnrnElectronic Combined ABS has a high level of precision and adjustability, due to the fact that it is a u2018brake-by-wireu2019 system. A dedicated ECU converts hydraulic pressure from the front and rear brake into an electronic signal passed to power units which in turn generate hydraulic pressure at the callipers.rnrnThe systemu2019s electronic control has numerous benefits. Firstly, it eliminates the u201cpulsatingu201d effect on the brake lever associated with conventional motorcycle ABS technology. It also allows the system to be activated instantly as soon as tyre slip is detected, minimising loss of grip and eliminating the possibility of locking a wheel. It also means there is absolutely precise control of the speed at which the brake callipers are activated. The result is extremely stable and neutral bike behaviour, giving the rider maximum feel and confidence, even under hard braking,rnrnThe combined element of the system varies the distribution characteristics of braking force as the front or rear brakes are applied and released. The system is set up so that when the rear brake is applied gently, the front brake is not activated. This allows the rider to use only the rear brake for small adjustments to speed, useful in Super Sports riding such as when settling the bike for corner entry.
Engine
Type
Liquid-cooled, DOHC In-line 4 cylinder
Displacement
998cc
Max Power
107kW @ 10,500rpm
Max Torque
104Nm @ 8,250rpm
Transmission
6-speed
Ignition
Self
ELECTRICALS
Battery
12V/8.6AH
Headlamp
LED
SUSPENSION
Front
Showa SFF-BP USD fork
Rear
Showa BRFC (Balance Free Rear Cushion)
CHASSIS
Frame
Diamond; aluminium composite twin-spar
Dimension
2120mm x 789mm x 1090mm
Wheelbase
1455mm
Seat Height
830mm
Ground Clearance
135mm
TYRE TYPE
Front
12-spoke cast aluminium
Rear
12-spoke cast aluminium
TYRE SIZE
Front
120/70 ZR17 M/C (58W)
Rear
190/55 ZR17 M/C (75W)
BRAKES
Front
310mm double disc
Rear
256mm single disc
AIR FILTER
Air Filter
*Prices are subject to change without prior notice.
VEHICLE
CC
AVERAGE as per SIAM
EX-SHOWROOM
PARKING TAX
INSURANCE 1 YEAR NORMAL + 5 YEAR TP
INSURANCE 1 YEAR ND + 5 YEAR TP
INSURANCE 5 YEAR NORMAL 5 + YEAR TP
INSURANCE 5 YEAR ND + RTI + 5 YEAR TP
RTO
ON ROAD
ON ROAD WITH ND
ON ROAD WITH 5 YEAR NORMAL + 5 YEAR TP
ON ROAD WITH INSURANCE 5 YEAR ND + RTI + 5 YEAR TP
CB1000R
998 CC
-
Rs.14,44,618
-
-
-
-
-
-
-
-
-
-